STI Canada's signature lawn and landscape synthetic turf, SoftLawn®, utilizes a soft polypropylene or polyethylene UV protected synthetic fiber. Treated and tufted on a porous backing, SoftLawn® is the same quality product used in school playgrounds, play yards, and lawn applications.
The Advantages of SoftLawn®
Requires no water
Chemical-free
100% recyclable components
Never needs mowing
ADA/ABA compliant- Crutches won't sink in and wheelchairs can roll
Safety- No more buried glass or other harmful objects
Anti-microbial fibers
When you make the switch to a synthetic lawn, you say goodbye to the dreaded "honey-do" list. No more mowing, watering or weeding! Think of all the hours you will save on a year to year basis! The lawn provides that fresh-cut appearance without the hassle, saving you time and money. SoftLawn® can be easily maintained using a leaf blower, or allow one of our certified installers to come "spring clean" your lawn for you!
The SoftLawn® product line is comprised of two types of yarn.
Polypropylene
New polypropylene yarn construction has allowed for more durable, softer, and much better polypropylene synthetic turfs. Unlike nylon, it is not subject to expansion or contraction due to humidity or temperature change because it has a 0% absorption rate. Polypropylene is slowly replacing nylon as the "go to" synthetic turf fiber.
Polyethylene
Polyethylene is the softest yarn available to synthetic turf construction.
It has a 0% water absorption rate, and therefore is not subject to expansion, contraction or absorption of ammonia making it a great pet turf. It is best used in lawn and landscape applications when infused with polypropylene for strength.
The Most Popular Products
PL-921 Bluegrass Blend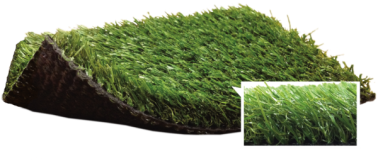 1 3/4" Polyethylene & Polypropylene Blend
Bluegrass is one of the most natural appearing lawns in the entire line! Its thick brown thatching makes it appear incredible realistic when compared with native grasses in North America. Plus it adds additional density for an unbelievably cushiony feel under foot.
PL-925 Plush Pro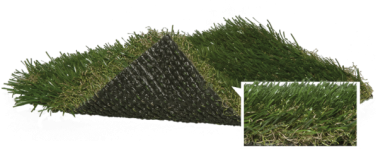 2″ Polyethylene Monofilament
The most luxurious turf in the entire SoftLawn® Line, and with over 100oz/sq. ft. of face weight it is the Mercedes Benz of the turf industry. Plush Pro not only looks beautiful but feels like no other. Thick and dense, it is the ultimate in outdoor indulgence.
Share this post: