We were lucky enough to have the opportunity to donate some turf to a great cause earlier this year. Although at first when the call came from Camp Shomria looking for turf for a ga-ga pit, we all kind of went a "ga-ga what?", but after learning more about the camp and the sport we couldn't wait to get on bored with the project.
For those who are just as confused as we were, here's a little background on the sport. Ga-ga is a variation of dodge ball but it is played in a walled hexagon "pit" where players run, jump, dodge, and kick a soccer or volley ball. The object is to hit your opponent below the knees without getting hit yourself. It is also known as Israeli dodge-ball, Octo-Ball and Panda Ball.
Traditionally ga-ga is played in a dirt pit or sand pit, which as you can imagine gets quite dusty. Synthetic turf quickly became the ideal playing surface for these pits as they are under tremendous abuse from the players twisting and running in a very condensed area. On top of that you can play on the surface during any weather. No need to wait for the pit to dry out after a rain. Not to mention the safety of synthetic turf is much greater than dirt. Not only is synthetic softer to fall on but there is less chance of infection from dirt getting into scrapes and cuts.
We hear the pit at Camp Shomria was a hit and the kids loved it! It was the highlight to the end of their summer and the camp can't wait to complete the surrounding area of the pit so that even more campers can enjoy the sport of ga-ga. This is just another example of the unexpected uses that optimize the technologies used in synthetic turf surfaces from Synthetic Turf International of Canada.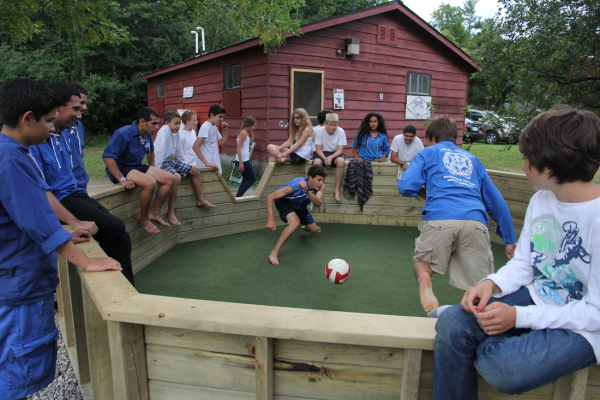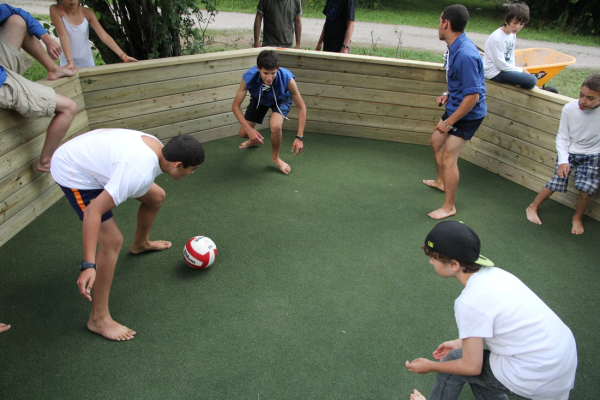 Share this post: